Treat yourself to a few nights away from the hustle and bustle in one of our popular Lotus Belle Glamping Tents!
(Also known in other countries as a Yurt).
During summer 2017 – 2018, the Kingston Holiday Park's Glamping Tents range from $105.00 NZD (large), $95.00 NZD (medium) and $70.00 (small).

Diligently set up for comfort and a luxurious camping experience, the glamping tents photographed below offer everything you need to enjoy the New Zealand outdoors while relaxing and sleeping in true style. Each glamping tents sleeps 1-2 adults only. These large and medium size glamping tents are the perfect place to stay while your on the road, planning a getaway with your partner, friends or simply surprising that someone special.
GLAMPING TENTS: SIZE LARGE (5m X 5m) / MEDIUM (4m X 4m)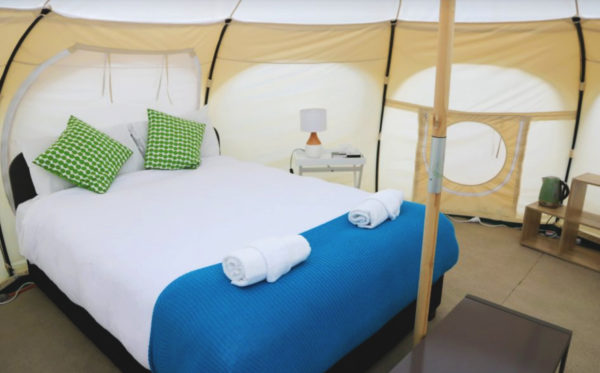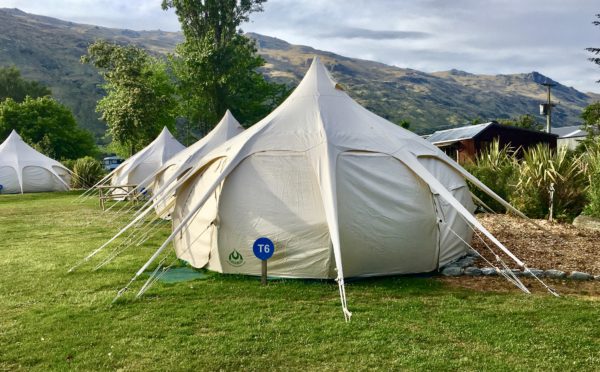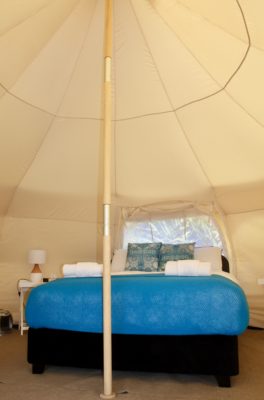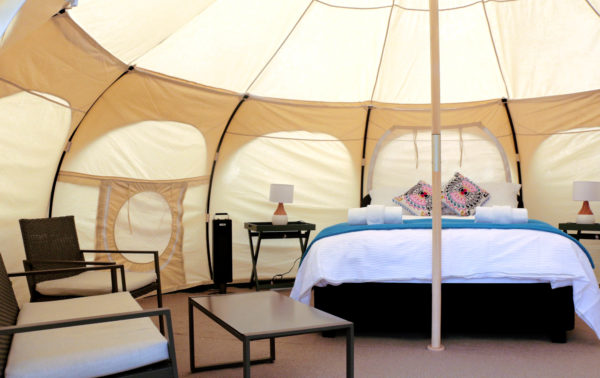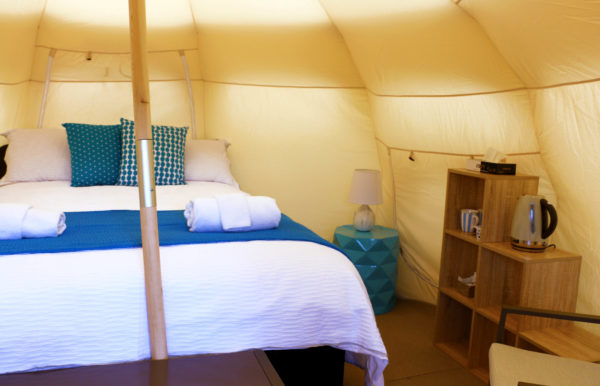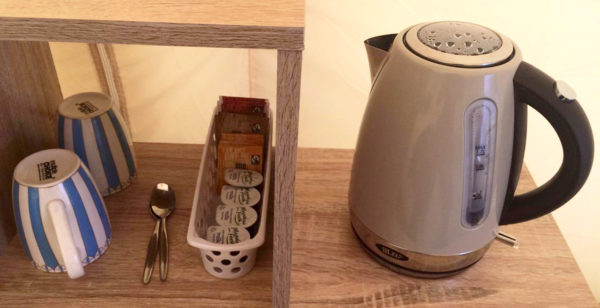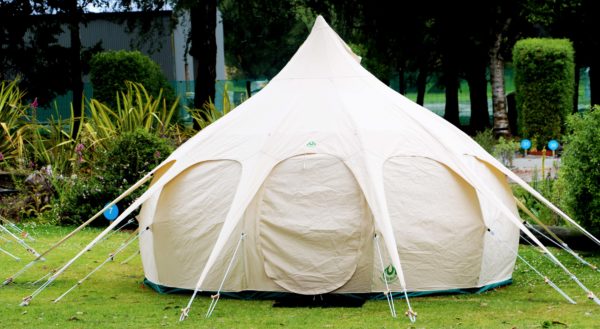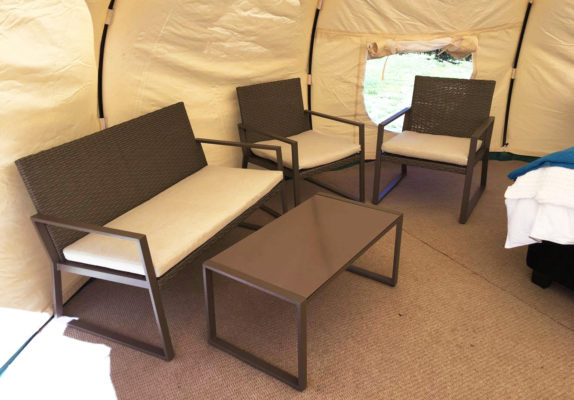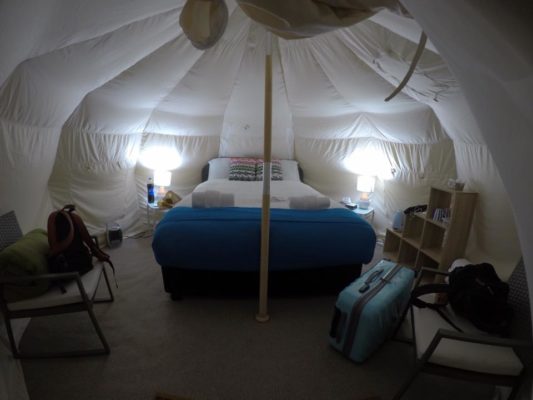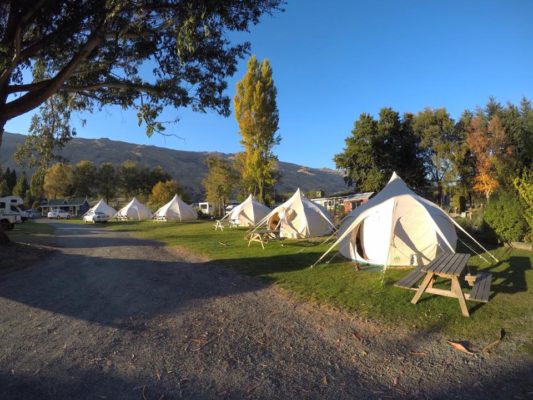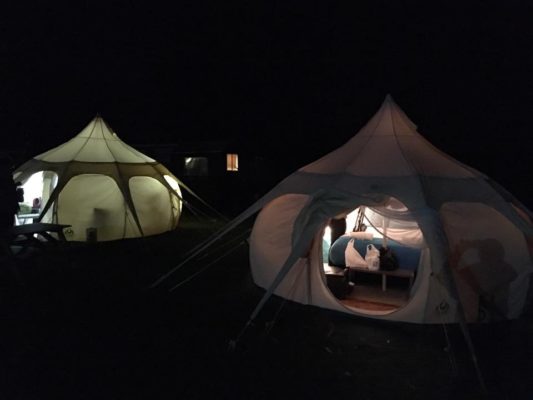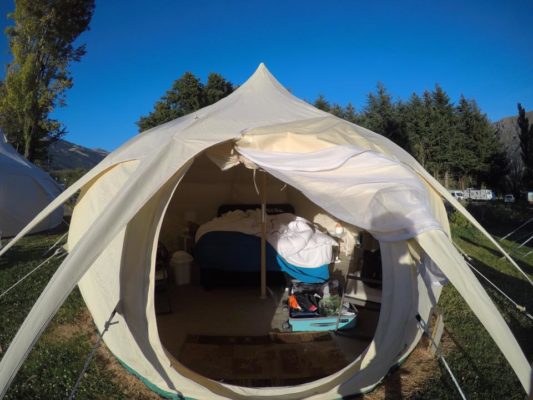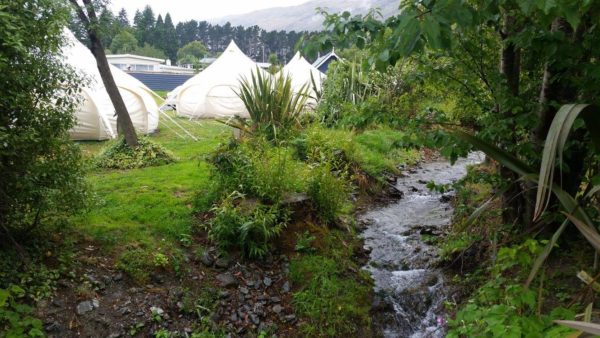 Our powered glamping tents have a Queen bed, fresh linen and towels, carpet flooring, a seating area with coffee table, side lamps, tea and coffee making station / electric kettle, cosy pillows, free soap, shampoo and conditioner and your own parking space out the front. Guests who stay in glamping tents use the shared park showers, toilets, kitchen, coin operated laundry and BBQ with free gas.
GLAMPING TENT: SIZE SMALL (3m X 3m)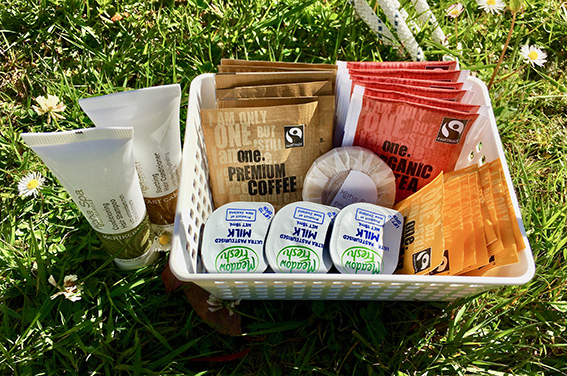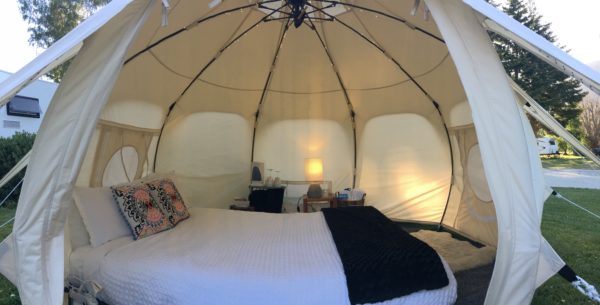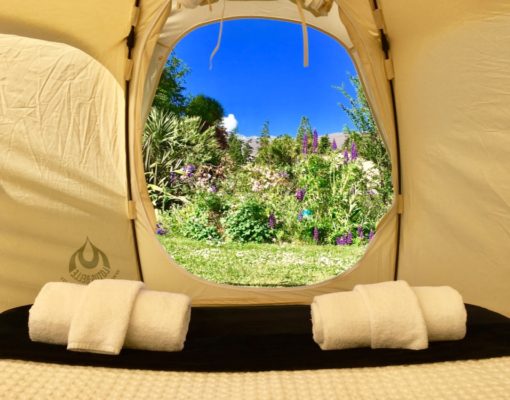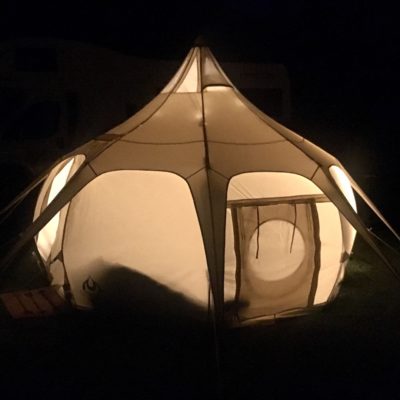 Our small powered glamping tent is set up for travelers passing through on a budget. Inside you will find a double futon bed* with an electric blanket, a kettle, mugs, wine glasses, tea, coffee, sugar, UHT milks, pillows, 2x towels, 2x face cloths, a torch, a lamp, fairy lights, mink blankets and fragrant reed sticks. Sit inside and relax on the bed or sit outside on the picnic table in front of the tranquil Kingston Stream.
* Please note: This futon bed is on the floor of the carpet glamping tent.
Please note before booking your glamping tent:

When staying in a glamping tent our guests have full access to our communal park kitchen and bathroom facilities. We acknowledge that our park kitchen and bathroom facilities are older and smaller than most holiday parks in our region. The Kingston Holiday Park is currently working very hard to gain building permission to rebuild a large kitchen block and update our bathroom facilities and outdoor BBQ area in the near future. Thank you for your patience and understanding.

TO BOOK NOW: Simply click here! http://www.kingstonholidaypark.co.nz/book-now
Peace, love and hugs xx
KHP